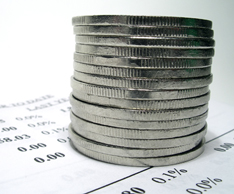 Mint Investments Limited
The Company is a Public Limited Company incorporated as Mint Investments Limited in Kolkata on 11th January,1974. under the Companies Act, 1956. The Company is registered as a Non Banking Finance Company (NBFC) with Reserve Bank of India. The equity shares of the company are listed on Calcutta Stock Exchange.
Registrars' & Transfer Agents
Maheshwari Datamatics Private Ltd.
6, Mangoe Lane, 2nd Floor,
Kolkata – 700 001,
Phone No: (033) 2243-5809/5029,
Fax: (033) 2248-4787,
E-mail: mdpl@cal.vsnl.net.in
Website: www.mdpl.in
MAIN OBJECTS OF THE COMPANY
To promote, form or acquire any Company and to take, purchase or acquire shares or interest in any Company and to transfer to any such Company any property of this company and to carry on the business of an investment company and for that purpose to invest in, acquire, sell, transfer, subscribe for, hold and otherwise deal in and invest in any shares, bonds, stocks, obligations issued or guaranteed by any company or Companies constituted and carrying on business in India or elsewhere and debentures, debenture- stocks, bonds, obligations and securities issued or guaranteed by any government state, soverign, commissioners Central or Provincial , public body or authority supreme, municipal, local or otherwise whether in India or elsewhere either out of its own funds or out of funds that it might borrow.
To borrow or raise or secure the payment of money in such manner and or such terms and with such rights , powers and privileges as may be thought fit and determined from time to time and in particular by the issue or sale of any debenture, debenture stocks, bonds, bills of exchange, promissory notes or other obligations or securities of the Company , with full power, to make the same transferable by delivery or by instrument of transfer or otherwise and either perpetual or terminable and either redeemable or otherwise and to charge or secure the same by Trust Deed or otherwise on the understanding of the Company or upon any specific property and rights, present or future of the Company and to devote any money so raised to any of the objects of the Company upon such terms and conditions as may mutually be arranged.
To act as investors, guarantors, underwriters, financiers, and to lend, or deal with money either with or without interest or security, including in current or deposit account with any bank or banks, other person or persons upon such terms and conditions as the Company may approve. Provided that the
Company shall not do any banking business as defined under the Banking Regulation Act,1949.
BOARD OF DIRECTORS

Mr. C. K. Dhanuka

Chairman of the Board

Mrs. Aruna Dhanuka

Non-Executive Non Independent Director

Mr. Mrigank Dhanuka

Non-Executive Non Independent Director

Mrs. Bharati Dhanuka

Non-Executive Non Independent Director

Mr. Rajendra Kumar Gupta

Non-Executive Independent Director

Mr. Bhanwar Lal Chandak

Non-Executive Independent Director

Mr. Yashwant Kumar Daga

Non-Executive Independent Director

Mr. Anil Bhutoria

Non-Executive Independent Director